US imperialism's militarisation of Taiwan
---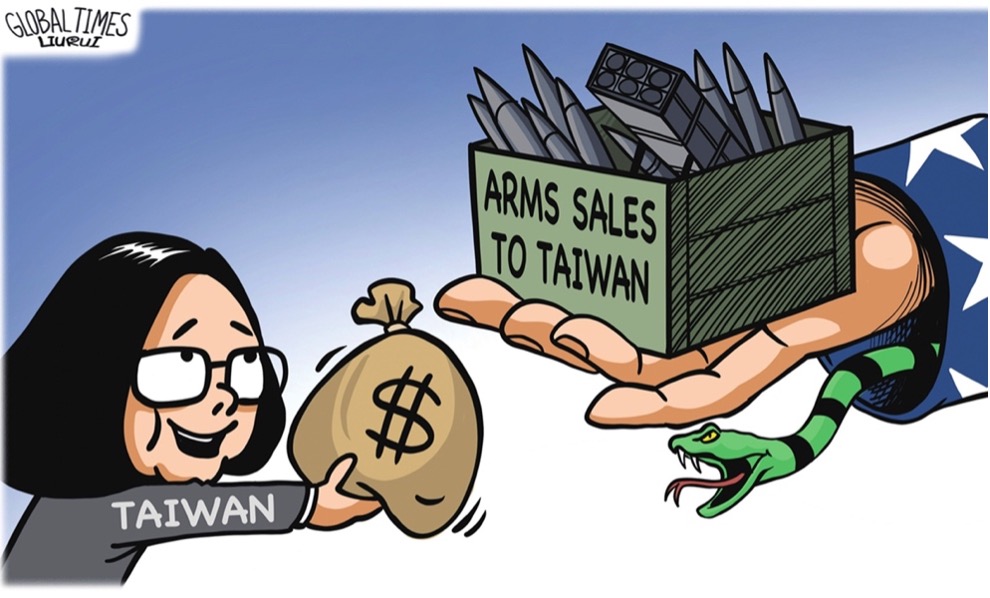 By Steve Sweeney
WASHINGTON is continuing to escalate tensions with China as part of its new Cold War, with last month the deployment of 200 additional troops to Taiwan. According to unnamed US officials the soldiers will be tasked with training Taiwan's armed forces against "a rising threat from China." The Pentagon would not be drawn on the issue, but has told the Wall Street Journal that Washington's "commitment to Taiwan is rock-solid" (quoted by Demetri Sevastapolou in 'Pentagon's top China official visits Taiwan', Financial Times, 17 February 2017).
"We don't have a comment on specific operations, engagements, or training, but I would highlight that our support for, and defence relationship with, Taiwan remains aligned against the current threat posed by the People's Republic of China," Pentagon Army Lieutenant Colonel Marty Meiners said in a statement (ibid.).
The US claims to have just 23 soldiers stationed on the island – in 2021 it was revealed that dozens of special operations forces had been secretly training Taiwanese troops since 2020, according to military sources.
Taiwan will resume its one-year compulsory service period in 2024 and plans to adopt the combat training programmes proposed by the US military to counter the Chinese People's Liberation Army.
Washington views China as its principal threat, with CIA director William Burns describing the country as "the most important geopolitical threat we face in the 21st century." The spy agency announced the formation of a new China Mission Centre in 2021, closing its mission centres on Iran and North Korea to concentrate its resources on Beijing.
Speaking at the Senate Intelligence Committee as part of the panel's annual hearing on worldwide threats in March, Director of National Intelligence Avril Haines described China as the "most consequential threat" to US national security.
Washington fears Beijing's deepening relationship with Russia and the newly emerging 'de-dollarisation coalition' which is seeing more countries seeking to join the BRICS alliance and the Shanghai Co-operation Organisation, with discussion of trade in local currencies well underway.
Taiwan is seen as crucial as the US undermines China using the usual caveat of supporting democracy, and despite claiming to be committed to the 'One China Policy' which recognises Beijing's sovereignty over Taiwan, its actions are working to sow instability.
The Taiwan Policy Act passed by US Congress in 2022 strengthens ties between Washington and Taipei, with the aim of making Taiwan more dependent on the US for political and military order. Congress had already flooded Taiwan with military hardware and weapons, approving an eye watering $1.8 billion (£1.3bn) of military aid in 2020, including mobile rocket launchers and 135 precision-guided cruise missiles. Now gung-ho Republicans on the Congress Foreign Affairs and Armed Services Committees are asking President Joe Biden to propose as much as $2 billion in military aid to Taipei when he announces his fiscal 2024 budget request, expected in March. This comes after Congress authorised $2 billion per year in foreign military financing for Taiwan when it passed the FY23 defence policy bill in December.
The cash boost however comes in the form of loans that must be paid back over 12 years, instead of grants, with Republicans urging Biden to approve the latter to "deal with the scale of the challenge." Under the US Y23 National Defence Authorisation Act, Taiwan must increase its defence budget every year to remain eligible for the Foreign Military Financing (FMF) programme — be they grants or loans.
In other words, Washington is pressing the increased militarisation of the island, while at the same time making out that China is the aggressor. To give the claim credibility, the US has sought to talk up the proposed threat posed by Beijing to the American public in recent weeks, including the shooting down of a Chinese weather balloon after days of dithering. It escalated the so-called 'Red Scare' by raising the alarm over a number of Unidentified Flying Objects in American skies. All of them unsurprisingly turned out to be benign while critics suggested this was merely a ruse to soften up public support for increased military spending while using anti-communist rhetoric to demonise China. And by the time the objects were declared harmless, the damage had been done, sending Americans into a frenzy while hyping up the anti-Beijing rhetoric.
Tensions escalated least year when former US House speaker Nancy Pelosi, a vehement opponent of China, made a provocative visit to Taiwan, ignoring warnings from Beijing that the People's Liberation Army would not "sit idly by." It triggered mass military exercises in the Taiwan Strait and global condemnation, with her trip seen as a dangerous moment. She claimed to support Taiwanese sovereignty and badged her trip to the island as one that upholds the principles of democracy. But this has been dismissed as hypocrisy given the US's long history of backing reactionary regimes in Taiwan and using it as a post from which to attack China and undermine its sovereignty.
Taiwan was the only province of China to remain under the control of Chiang Kai-shek's Nationalist Party after the socialist revolution swept the country in 1949. In 1950, the US navy's seventh fleet prevented the communists carrying the revolution across the Taiwan Strait and the island has been self-governing ever since.
February 28 marks the 75th anniversary of the beginning of brutal oppression in Taiwan led by nationalist leader Chiang Kai-shek in a bid to crush the Chinese revolution. The island was ruled under martial law from 1949 until 1992 with a period known as 'the White Terror' seen as a form of fascism under which as many as 28,000 civilians were killed and 140,000 jailed. Of course it had Washington's steadfast support during this period.
Although the US was initially ambivalent following the Chinese revolution and the defeat of the nationalists, it became strategically important during the Korean War which broke out in June 1950. President Truman shifted Washington's position. Taiwan was no longer deemed part of China, but its future was undecided.
The warships in the Taiwan Straits prevented reunification while the US signed what was deemed an illegal defence treaty with KMT leader Chiang Kai-shek. Washington was pumping some $200 million a year in military aid by the mid-1950s while Taiwanese and US intelligence services worked together on spying missions.
Radio transmissions were broadcast into China urging the population to rise up against its Communist leaders. This unsurprisingly led to a number of flashpoints while the US sent Taiwan guns capable of firing nuclear warheads.
Some ten thousand US soldiers were stationed on the island during the Vietnam War, but tensions were de-escalated when US President Nixon met with Mao in Beijing in 1972.
But Taiwan is strategically important to Washington once more as part of its new Cold War strategy, and also because of its resources, namely semiconductors. Taipei plays a critical role in the global chip supply chain and is home to the world's largest chipmaker, the Taiwan Semiconductor Manufacturing Company (TSMC). The company is a foundry, meaning it manufactures chips that others design, counting Apple and other tech giants among its customers. TMSC dominates the market for semiconductors, which are used in everything from our smartphones to cars and refrigerators, making up 54% of the global foundry market. Pelosi met its chief executive during her controversial visit while a delegation of US lawmakers met with TMSC founder Morris Chang in March 2023.
Two of the US representatives as part of the delegation – former navy cryptologist Tony Gonzales and Mikie Sherrill – introduced the Taiwan Advanced Research Partnership Act "in response to an increased number of cyberattacks against the US and our allies". The bill is "to strengthen Taiwanese and US homeland security, and bolster cybersecurity," according to Gonzales.
Similar moves have been made by the EU which angered China when it passed a non-binding resolution in 2021 calling for increased trade with Taipei and demanding that the bloc's trade office there be renamed the 'European Union office in Taiwan,' effectively upgrading the mission.
High-level talks were held between EU and Taiwanese officials last year with Brussels saying it would like to work with Taipei under the European Chips Act, introduced in February 2021, as it tries to deal with a global chip shortage. Taiwan's Deputy Minister of Economic Affairs Chen Chern-chyi said that while little progress has been made on bilateral agreements with the EU, Taipei remains open to a Free Trade Agreement.
But despite US sanctions the Chinese province of Guangdong is stepping up plans for the production of chips. Guangdong vice governor Wang Xi told the annual China Integrated Circuit Industry Conference that about 40 major semiconductor projects are underway or planned in the province with a total investment of more than 500 billion yuan ($74 billion). As it aims to become a centre for the production of integrated circuits , the province is preparing to set up a second phase semiconductor fund with an investment of 30 billion yuan ($4.36 billion) .
"There are also plans to create specialised sub-funds to invest in small and medium-sized projects in areas such as automotive microcircuits and composite semiconductors," Jin Shenghong, head of Yuecai Holdings in Guandong province said.
But Taiwan's increasingly hostile stance toward China is not universally supported by the island's residents. Last November saw the opposition Kuomintang win the mayoral and county elections, taking 12 of the 21 seats up for grabs, including the capital Taipei. While those elected have no say on policy toward China, Taiwan's President Tsai Ing-wen had made relations with Beijing the focus of the election, and was handed a crushing defeat, the worst in her party's history. KMT chairman Eric Chu believes his party could win the 2024 elections.
While in its rhetoric the KMT has toned down its aim of retaking mainland China, it is not quite as simple. This is a point glossed over by mainstream press accounts. China does not unilaterally express a 'claim' over Taiwan — Taipei's constitution also makes its own claim over the Chinese mainland.
But the UN has recognised the 'One China' policy since 1971 when it expelled Chiang Kai-shek's forces in favour of Beijing. This was strengthened when China was also made a permanent member of the Security Council. Of course, as with everything, there is nuance. While committed to the policy, it is open to interpretation, including as to which body represents the 'One China.'
As the junior partner and ally of US imperialism, Britain is not to be outdone. Reuters reported on March 13 that, according to the Export Control Organisation, in the first nine months of 2022, the British government granted 25 licences, totalling £167 million, to companies exporting submarine-related components and tech to Taiwan. The figure was more than the previous six years combined, and up from the £3.3m approved in 2008, the first year of such exports to Taiwan.
In March a delegation of British MPs vowed to give "as much help as possible" to Taiwan to defend itself against China. According to the Guardian, Bob Stewart, Conservative MP and leader of the APPG delegation, said that Taiwan was "on the front line of democracy, and autocracy" (see Helen Davidson and Chi Hui-lin, 'British MPs call for "as much help as possible" for Taiwan to defend against China', 23 March 2023).
But it is the West that is ratcheting up hostilities. The AUKUS security pact between Australian, Britain and the US and aimed at containing China was formally announced in March and will see Australia armed with nuclear-powered submarines. It has been described as a major threat to regional and global stability.
Meanwhile the US has been accused of establishing a so-called 'bamboo curtain' around China, with some 180,000 soldiers taking part in joint military drills with the Philippines, the largest exercises in history. Washington is also set to build five military bases there, while US Secretary of State Antony Blinken has even visited Vietnam – a country devastated by the US during the anti-communist war of the 1970s – in a bid to shore up support and exert influence.
Foreign ministers of the G7 countries were meeting at the time of writing, however they remain divided over how they should approach what they described as "extremely important" challenges in Asia – especially the so-called threat posed by Beijing. The gathering took place soon after French President Emmanuel Macron's comments following a visit to China raised eyebrows. He said Europe should not get dragged into confrontation with China over Taiwan, warning Europeans against becoming "vassals" of the United States. Blinken is however hoping to secure the same level of support as he did when the US successfully lobbied NATO to list China as a security challenge for the first time last year.
The military alliance's Strategic Concept document also described Russia as "the most significant and direct threat" to the alliance's peace and security"
But what passes as the progressive movement in Britain is seriously divided when it comes to China, with many pseudo-leftists labelling it imperialist and authoritarian, no different from the US. Right on cue, the pro-imperialists that run the Ukraine Solidarity Campaign shifted from backing NATO's proxy war against Russia, to swinging behind support for Taiwan against supposed Chinese aggression.
But it is the duty of communists to oppose such a drive to war and support the defence of China against imperialist aggression. The anti-war movement in Britain and internationally must stand in solidarity with Beijing but more importantly must also take concrete actions to weaken the British government and its ability to wage imperialist wars.
Hands Off China!